The new era of social media – we listed the social media trends for 2020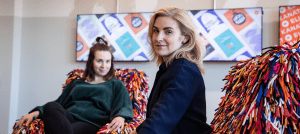 Discussions about social media get easily polarised, and negative qualities seem to arise easier than the positive ones. Social media has not yet owned up to full positive potential and we believe, that the world is on the right track towards seeing the positive and beneficial sides of networking and towards the factors highlighting individuals' own responsibility.
Our digital media chief specialists Reetta Nurmo and Anna Storå have created a vision about the trends that will be affecting social media in 2020s.
A claim: Comfort and a sense of emotion and empathy are highlighted in social media
Anna: Rudeness and impoliteness are not allowed in working life, in running errands nor in real life relationships. But in social media hate speech has gained its ground and is able to rage pretty freely. Today, a demand for comfort also in digital dimension has emerged.
Reetta: I don't know what in earth happened when people laid their hands on social media. What made some people completely to forget basic manners and soft skills? I believe, that there will be some sort of awakening and people will find the humane side of themselves. There already is clear change in sight. Increasingly more personal experiences that draw lot of reactions, compassion and support are shared in Twitter, a channel which is traditionally stigmatized with hate speech.
A: Being nice to one another is a hot topic at the moment. For instance, the New York Times and Helsingin Sanomat have both published articles about the trend of comfortness and Forbes sums up LinkedIn's raport about future work into one word: empathy.
R: I claim, that within Finland's best social media customer services, the factor that makes one stand out from others is the ability to treat the customer just as good as they would be treated in physical customer experience. It is the ability to show empathy towards the customer's situation and needs, to sense nuances and to be emotionally intelligent enough to handle the situation with warmth but same time precisely.
A claim: Genuineness separates the wheat from the chaff
A: From its beginnings brutally honest posts, social media has developed a trajectory: always from the times of forming plastic imagos, then towarding back to sincerity. This must be a counterforce: real life isn't always perfect and every and each one of us is vulnerable.
R: Building a polished and smoothed personal brand is working for few and far between. It is much easier to be oneself and find a natural way to breath and live in social media. A leader or specialist has to find the conversations with purpose and real impact, to take part in. They also need to find the worthwhile audience to communicate with. Only then one's own manner to be present falls into place by itself. Me myself would be ready to throw the concept of personal branding to the rubbish bin. Let's just be humans to one another.
A: Honesty as part of the contents of organizations also makes people think. The social media users have learned to interpret the social media content so well that the strained, unnatural perkiness or foisting presence only arouses annoyment.
R: That's right. When the reason for a company's existence is bright, the topics of conversations are clear and the tone of voice in the backbone of the organisation, things should get rolling by themselves through practise. Openness, interaction and transparency also prevent from social media crises.
A claim: The importance of establishing own limits and safe spaces will increase
A: Over past few years social media conversations have shifted more and more to the closed arenas like WhatsApp, Instagram and private messages, Facebook groups and Messenger. People in digital environments, just like in the real world, try to find their way to environments where they feel themselves safe.
R: People are becoming increasingly aware of the ways to filter social media to be suitable for them. Muting, blocking and unfollowing are tools that keeps you secured. Social media platforms have provided tools for identifying deep fake and cheap fake content and hopefully in the future also stricter alignments for limiting and preventing trashy content.
A claim: People as well as organisations need to be familiar with the social media environments and their patterns
R: Social media channels as environments diverse from one another. Each content producer should understand that the same content should not be generated to all the channels, at least not in the same form. To put it roughly: in LinkedIn there always seems to be some sort of seminar going on, sometimes featured with good atmosphere and top speakers, sometimes full of mediocre baloney. When in Twitter you might feel like entering an oriental bar, Hyde Park's speaker's corner or afterworks. It is clear that different environments require different ways of presenting things. The tone of voice might vary and the content need to be packaged accordingly, preferably produced to fit the needs of the correspondent channel by definition.
A: Coping in social media channels requires a good eye for the game. The channels also change, and what worked last year might not work tomorrow. LinkedIn is a great example of how conversation about modern working life highlights the soft and more human skills, when previously it was all about sharing sharp factual content and viewpoints. A year-round content plans are not accurate anymore, because channels and their purposes might change faster than you think.
A claim: People need to be more responsible themselves, instead of putting a pointing finger only on technology giants
R: People's social media literacy will hopefully take a big leap. People need to be responsible for the content they share and produce. I am tired of reading as if anti-vaccination Facebook group is to blame for measles infections. People who have made bad decisions are the real one's to blame.
A: It is interesting to read about researchers that claim that Finnish people trust media, but not social media, despite the fact that social media is the main source of news for many people. Social media itself is not unreliable, but it of course is not as well curated as Helsingin Sanomat or Mtv3. Unfortunately, evaluating the reliability and topicality of sources seems to be rather difficult for many.
R: After all, I believe that also the technology companies will continue to develop their sector so that manipulated or false content and internet trolls won't spread around. It was truly positive to see Twitter and Instagram collaborating with THL (The Finnish Institute for Health and Welfare). When seeking for information about COVID-19 in Instagram and Twitter, the first results and information are provided by THL.
A: Media literacy should be an obligatory part of education, not only for the kids, but also for adults that are not used to the peculiarities of digital world.
A claim: The experiences of social media generations differ from one another
A: Based on our own way of thinking and use of social media, us adults usually seem to have and idea on how younger people use social media. But actually youth's thoughts about social media are much profound than just pondering which channels to use or not to use.
R: For the younger generation that is now turning to young adults social media has always existed. It is not a separate reality, but rather a bunch of freely exploitable communication channels among the rest of the channels. The youth chooses to use the pleasant ones, and dismisses the unpleasant ones. The main reason for use is keeping contact with the loved and close ones, not becoming a social media celebrity.
Some of the younger users produce content, some don't. As a statement, some intentionally stay outside these channels. What is essential to understand, is that the youngsters are not spending all their time in social media, neither producing constant content.
Instead, most of the people I coach feels social media as something on top of own work and life, an additional entity, that can be separated from real life. This however is not the whole truth, because social media is a way of communicating, that is here to stay.
A claim: It is easier to succeed in social media for companies, that have a strong sense of meaning and tone of voice.
R: Social media is an instrument of strategic communication. When you know who you are and what you're doing, life gets easier. This also goes with social media.
A: This has a lot to do with being genuine, what was discussed earlier. When you know yourself and your themes and feel that they have a purpose, it is so much easier to talk to your audience in a fascinating way. It is easy to arouse feelings in others, if the organizations sector itself is visibly enthusiastic about having an impact on the wellbeing of world and its people.
A claim: Digital channels are in need for a new type of customer service and experience
R: During the following few years we will see the next phase in the development of digital customer service. Will the chats take the form of a video? Or will there be better solutions artificial intelligence? Augmented reality will provide more opportunities for companies. Can the accurate size or best fit of clothing be estimated only by the photo of the customer? Who will be the first ones to exploit the Instagram filters successfully in commercial use?
A: I keep on getting surprised how little the technological opportunities are actually used in daily life, when so many things could be smartly automated. The resources of people working in social media could be released to R&D and improvement of the content, which would further increase the effectiveness of the commercial and brand related result.
In many companies the willingness to invest large amounts on social media is still pretty low. This is peculiar, taking into account how big impact social media has on brand image, customer satisfaction and engagement as well as the impact on hard numbers measured with commercial metrics, such as sales and website traffic.
We believe that in the beginning of 2020s, social media will finally show its superpower on how it can increase the quality of people's life, help to create interaction with purpose, improve and intensify companies marketing communications and enhance the customer experience. We believe in marvellous digital future.
Picture: Roope Karisto