Ellun Kanat receives international design award at Transform Awards Gala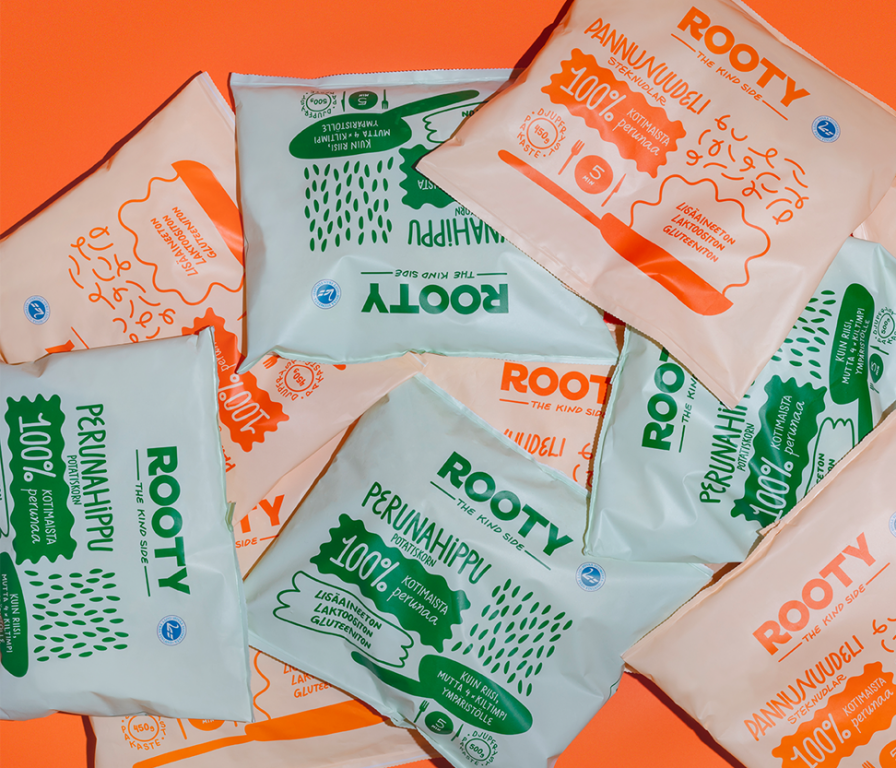 Ellun Kanat change agency received gold in the Transform Awards Nordics competition. 
The victory came in the "Best strategic or creative development of a new brand" category, where Ellun Kanat entered with Rooty – The Kind Side by Pohjolan Peruna. In collaboration with Ellun Kanat, Pohjolan Peruna launched a frozen potato side ingredient to replace noodles and rice with a more climate-friendly option. The products have a low carbon footprint and they're tasty, healthy and easy to prepare. 
Jami Teirikari, Marketing Director of Pohjolan Peruna, describes the collaboration with Ellun Kanat:

–Ellun Kanat had strong, fresh insights on how Rooty could stand out positively in the fiercely competitive grocery business. Ellun Kanat gave the brand a great narrative, which defined Rooty's values well, and produced a suiting visual appearance to go with it. We've received excellent feedback on the end result from both consumers and retailers.
The climate and biodiversity crises present every industry company with a challenge: we all need to change. The product development team at Pohjolan Peruna took this to heart, as the owner of the iconic Mummon-brand set off to develop Rooty. 
"We built Rooty a strategy that spoke to young people with high demands." -Sasu Haanpää
–Brands need to answer consumers' growing demands for smaller carbon footprints. Moreover, people in the food business want healthy and clean ingredients. With Rooty, we built change by rethinking an existing product. We built Rooty a strategy that spoke to young people with high demands. From there it was a matter of shaping the brand values and a visual design that would communicate the brand core to consumers, Ellun Kanat Head of Design Sasu Haanpää explains. 
Ellun Kanat is known for sturdy insights and strong communications competence. Ellun Kanat believes that communication is the most powerful tool for influencing change. Designs and brands create a visible interface between the consumer and the changes that are taking place in a product or business. In the Rooty entry, the client thanked Ellun Kanat specifically for persistently challenging them towards bold change.
–We have a strong urge to take our skills and insights abroad. We're very proud of the big win that Ellun Kanat achieved in this tough international contest, as it proves that the effort we put into branding and design, as well as insightfulness, elaborate strategy work and strategic foresight, pays off. This is a great milestone for Ellun Kanat, the foreign-market-bound Rooty and Pohjolan Peruna, and of course our amazing people, Ellun Kanat CEO Taru Tujunen rejoices.
Transform Awards Nordics is the only regional award for best brand development. The competition draws participants from both global companies and smaller local agencies. The objective of the competition is to recognize and reward top performers in innovative branding. The competition focuses on strategy, execution, content and evaluation. Transform Awards are granted globally in six regions. 
An image survey of the communications field by Taloustukimus in 2021 revealed that Ellun Kanat is the best communications agency in Finland. The survey studied communications managers' and experts' views on the image of communications agencies. 
For more information and interview requests:
Head of Design Sasu Haanpää
044 796 0092
sasu.haanpaa@ellunkanat.fi
CEO Taru Tujunen
050 357 9418
taru.tujunen@ellunkanat.fi
Ellun Kanat is a strategic change agency that believes communication is the world's most efficient tool for influencing change. In the fast-paced world of double disruption, successful organisations build a strong, change-savvy strategy and culture, assume a truly influential and responsible role in the world and communicate with insight. We help out at every phase of change. 
It wouldn't make much sense if nothing changed once we're done.