Maximising the personal talent at your company isn't enough: in the future, team skills are the superpowers that matter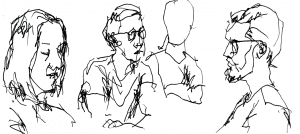 "I am inspired by a story told to me by my good friend and philosopher Esa Saarinen at a seminar on Pafos. According to it, the most amazing thing to be is a universe where stars are able to shine." 
This is what Markku Hautala, head of a local supermarket within the national chain Citymarket said in an interview in a Finnish weekly magazine Suomen Kuvalehti on 23 August 2019. In July, this particular supermarket, located in a suburban neighbourhood some 40 kilometres north-east of Helsinki, was shortlisted among the world's six best grocery stores. By then, this store had already become a phenomenon of its own by having a fresh sushi counter and an ice cream factory. 
People are accustomed to accentuating their own competences and thinking that by maximizing their individual talents they'll become a sought-after employee. There is something more important, however. 
The ability to work together and collaborate are top skills of modern working life. They also will be, for years to come. 
Goodbye to teams with specifically defined roles
In her TedTalk in 2017, Harvard Business School professor Amy Edmonson spoke about working life and teams.
In a fast-paced, complex and unpredictable world we are faced with and have to resolve big and challenging problems, carry through major change processes. In such a world, change intelligent organizations adapt by working nimbly in changing teams where no one person has a specifically defined role. 
Instead, the success of our work is dependant on how we are able to bring other people in to a project in order to achieve the best possible solution. Authentic diversity, the ability to identify various ways of arriving at a solution and merging different viewpoints, is a key requirement in succeeding. It is also a major challenge for many companies (and employees). The difficulty of this process was also discussed in the September–October 2019 issue of Harvard Business Review. A smart company is able to build partnerships across industry boundaries. The same applies to an individual employee: a smart and sought-after employee is able to forge effective partnerships. This kind of corporate culture calls for different skills than one typically focused on individual performers.
Amy Edmonson highlights three key attitudes:
Humility in the face of a challenge

Curiosity towards other team members' unique contribution

Willingness to take risks fast 
Teamwork was also the focus in Google's two-year-long Project Aristotle where the purpose was to establish what makes a team functional and effective. The underlying presumption was: identify the best experts of the industry, bring them to work together and voilà – a successful team is born.
This presumption proved faulty. It was less significant who was actually on the team; what was essential was how effectively the individuals worked together. In other words, it is not about gathering as many shining stars together as possible but about creating a universe where stars can be born.
Psychological safety is a consequence
Google considers psychological safety to be the first prerequisite for a functional team. Professor Edmonson has a different view: psychological safety is not the prerequisite but the consequence. Psychological safety tends to be considered part of corporate culture and corporate culture is often seen as the responsibility of corporate leaders. 
In actual fact, though, we have forgotten that corporate culture is built by us. According to Edmonson, psychological safety is born out of situational humility: the willingness to recognize that we all need to learn and that no one knows it all. It pays to be curious instead of self-righteous and omnipotent.
"We can get things done in our silos, but when we step back and reach out and reach across, miracles can happen", says Edmonson.
Edmonson cites teams at a hospital, a collaborative rescue operation of miners from a collapsed mine, and the creation of the world's best movies as examples. The success stories of the future are not built by companies that advocate for individual shining stars. 
To the contrary, it is how fast we can identify unique skills and talents amongst one another and bring teams together from different backgrounds that makes us all stars. Seeing co-workers as competitors or thinking we are capable of doing everything ourselves will take a strain on this atmosphere of working together. 
On should always be wary of people (also in a recruitment situation) who say they know everything better than others (or even think they do, as it does show through).
"It's hard to learn if you already know," says Edmonson.
Fortunately, there is a remedy for this: curiosity. A curious person always admits they don't know everything – and remains curious.
Illustration: Unto Helo