Hatchling 2019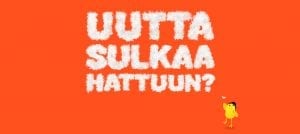 Are you looking for a chance to spice up your resume?
Now's your chance, as we, at strategic communications agency Ellun Kanat, are looking for a flock of new trainees – the Hatchlings (in Finnish: HarkKanat)!
So what do we do at Ellun Kanat? Our purpose is to make the world around us more understandable – and a better place to be in. Our tools for change are communications, corporate culture, high impact communications and partnerships based on shared values.
We are our clients' sparring partners in an everchanging world!
NB! In many of our trainees' tasks, fluent skills in Finnish are necessary, but if your talents lie in the world of, for example, visual communications or in filming & editing, you can manage perfectly with fluent English.
For us, your attitude is more intriguing than your current resume, so let us know what you could offer us and what you strive for!
The Hatchlings of our dreams are
Active and unprompted talents of the future
Ready to roll up their sleeves and eager to learn, whatever comes their way
Sharp thinkers and fluent communicators
What do we offer?
An inspiring and diverse year amongst a group of top communications professionals
A flexible, project-based job, and a chance to develop your skills and gain lots of support and feedback on your work
Experience and interesting tasks in different types of accounts and projects
A cheerful, straightforward and one-of-a-kind workplace
The traineeship consists of an hourly based salary. The amount of work varies.
How do I apply?
Send us your application and CV. If you choose to introduce us to your social media accounts, please include them into your application.
Please tell us at least:
What's the most interesting work or any other project that you've been involved in?
Which skills of yours could be beneficial at Ellun Kanat?
What's your way of working like?
Do you have any specific passion, hobby or skill (such as blogging, photographing, video shooting, graphic design), or are you a true fan of Excel or analyzing? Please tell us about that!
Send your application to harkkanaksi@ellunkanat.fi 

on Sunday 7th October the latest.
In case you have further questions, you can
Participate in our Facebook live on Friday 28thSeptember at 10–10.30 am
Call Unna on Friday 28thSeptember at 14–15 (tel. 040 821 9316)
OR